Bike Racks for Fat Bikes
It is starting to look like the Fat Bike craze is here to stay. This year at Interbike in Las Vegas almost every manufacturer of mountain bikes was introducing a new Fat Bike model to their lineup. This market has especially grown in Canada where winter sticks around for 9 months or so.We have seen quite a few Fat Bikes at both of our stores in Edmonton and have heard that the crowd is also growing in and around Calgary where you can now take your Fat Bike on the Canmore Nordic Centre Ski trails during the winter.
These bikes look like a lot of fun and a great way to enjoy biking in the winter when you are not hitting up the ski hill. I personally have been looking into pickup one of these Fat Bikes and enjoying the Edmonton trail system all year long. However there is one thing major thing that is holding me back, my bike rack doesn't accommodate a Fat Bike! Well at least not properly. To date not a lot of bike rack manufacturers have created bike racks specifically for the Fat Bike market. That is changing as they grow in popularity. Below I will outline the bike carriers we carry that will accommodate most models of Fat Bikes. These options include hitch, roof, and truck box mounted bike racks.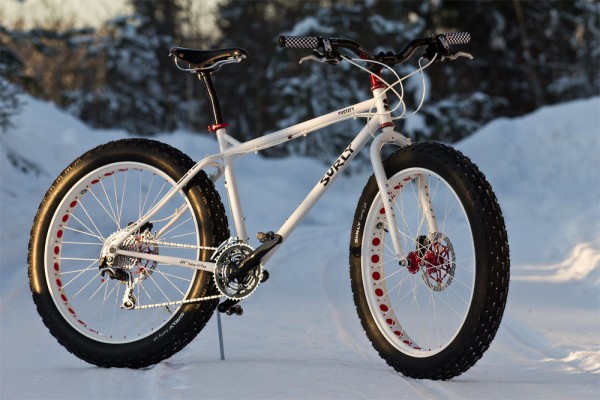 Roof Mount Options
Kuat Trio with 9mm or 15mm Fat Bike Adapter
The Kuat Trio the use of the use of the 9mm or 15mm Fat Bike Adapter is the only roof mounted bike rack available that is designed to work properly with a Fat Bike but also with other mountain and road bikes. Initially the Trio, formerly known as the Rufee, was designed as a fork mount bike rack that could be used with 9mm, 15mm, and 20mm forks. This sleek very well designed bike rack had been showing at tradeshows for a couple years before it was officially launched this past summer under the new Trio name. Along with its launch Kuat added the Fat Bike adapters. This adapter is available in 9mm and 15mm sizes and is designed to accept the wider front fork on a Fat Bike. Included is also a wheel strap extension so that you don't have to use a bungee cord or tie down strap. The unique feature on this rack is that rather than locking the skewer on the fork it has a cable lock which slides out of the rear of the tray and wraps around both your frame and rear tire and back to itself. You can check out either of these products on our website or at either of our two store locations. We expect this will be a popular one so if you have jumped on the Fat Bike wagon I'd grab one of these quick.
This option is not perfect and will not work with all Fat Bikes. The main issue here is the bike tray is not wide enough to support any Fat Bike tire so rather than sit in the trough style tray the wheels merely sits on top of it. The rear wheel strap is also not long enough so you will need to use a bungee or tie down strap with this solution. Depending on the rim size of your wheels and how much you have inflated your tires you may not be able to get the front wheel into the wheel hoop.The arm which holds the tire into that wheel hoop will fit over pretty much any tire but if the rim and /or tire do not fit in that wheel hoop this option won't work. You can see in the picture below how close it is. Thanks to Scott for letting us take a picture of his bike here in the store. Scott of course went and put on bigger tires rendering this option useless for him. (He ended up purchasing the Kuat Trio with the 9mm Fat Bike Adapter.)
Hitch Mount Options
Thule T2 with Fat Bike Adapter
This year Thule has also introduced a Fat Bike Adapter for their T2 platform style hitch mount bike rack. This adapter includes a wider front and back wheel tray to accommodate wider tires. This adapter works with the current 916XTR, 917XTR as well as the 916XT and 917XT models. Since this adapter is sold on a per bike basis you will need to purchase as many adapters as required to haul your fat bikes. The T2 uses the same arm system as the 594XT Sidearm so it will fit over the tire of pretty much any Fat Bike. The benefit of this tray style is they are designed to carry bigger, heavier, beefier bikes. Fat Bikes although not as heavy as some Downhill Bikes they are normally heavier than your average mountain bike and will sometimes exceed the weight capacity of a hanging style bike rack. Always keep the weight of your bikes and the capacity of your hitch in mind when purchasing a Hitch Mount Bike Carrier.
Hanging Style Racks
On most Fat Bikes, although the tires may look odd to the average cyclist the frames are normally quite simple. This gives you the ability to hang the bike by the frame and not have to worry about the wheels fitting into a tray or hoop. The things you will have to worry about here are: weight capacity of your rack and hitch, clearance to the ground (the really big fat bike wheel and tire combos can put you at 30" causing your tires to hang awfully close to the ground on certain vehicles and racks), and frame geometry/materials. Bring in or send us a picture of your bike and know the weight of your bike when looking at this solution.
Truck Box Mount Options
There are a lot of trucks around Alberta and although we have seen a trend of customers opting for smaller vehicles for some folks a truck is a necessity, be it for work or for pleasure. So of course there are some truck box mounted options. Kuat Racks, who are known for their popular NV hitch rack also makes one of the cheapest bike racks on the market, the Dirtbag. The Dirtbag is a simple bolt on fork block which is available as a 9mm, 15mm, 20mm, Fat Bike 9mm, and Fat Bike 15mm. These can be bolted right to the bed rail or box of your truck or to a piece of wood or used for other custom rack options.
If you have any other questions about options for carrying Fat Bikes or need assistance selecting which option is best for you feel free to give us a call or send us an email.
Happy cold snowy trails,