The Yakima FourTimer hitch bike rack carries 4 bikes on the hitch of your vehicle and can be mounted onto 2" hitches. The Four Timer is a platform style hitch bike rack which means the bike sits into a tray and a hook secures over the frame of each bike. The FourTimer is designed to fit virtually any bike including cruiser bikes, mountain bikes, road bikes, and even fat bikes when use with the Yakima Fat Straps (sold separately).

The Yakima FourTimer features a low profile wheel tray which fits a wide variety of tires sizes and an easy to use ratcheting padded hook which secures over the frame of your bike. The wheel trays adjust from side to side to accommodate different sizes of bikes while ratcheting wheel straps loop through both wheels to secure the tires into position.

Once the bikes have been removed from the bike rack the ratcheting arm can be folded to the side for easy access to your rear hatch or trunk and the rack can be folded up against the back of the vehicle when not in use. A Yakima Hitch Lock is included to secure the bike rack onto your hitch and prevent theft. Add a Yakima LockUp 10 Foot SKS Locking Cable with HitchLock (sold separately) to lock your bikes to the rack, vehicle hitch, or tow loops.

The Yakima FourTimer is also available in a two bike model. Check out the Yakima TwoTimer for more details.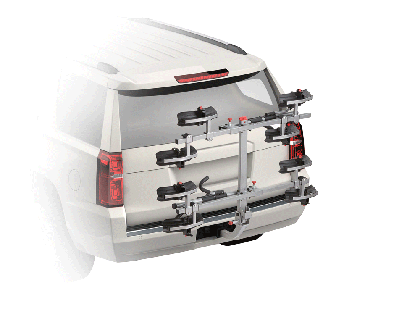 Features

Carries up to 4 Bikes (up to 45 pounds per bike)

Mounts to 2" hitch receivers only

Can be used as a 2 bike by removing the two outside bike trays

Works with a wide variety of bikes including fat bikes, cruiser bikes, mountain bikes, and road bikes

Need to carry fat bikes? Add Yakima Fat Straps (sold separately) to carry fat bikes with up to a 4.5 inch wide tire. Fat Straps are sold separately in pairs. One pair of Fat Straps are needed for each fat bike you are carrying.

Low profile adjustable wheel trays accommodates a wide variety of tire sizes and different sizes of bikes

Ratcheting padded hooks secure over the frame of each bikes

Wheel straps loop through the tires to hold them in place

The ratcheting arm folds to the side once the bikes have been removed for easy access to your rear hatch or trunk

Bike rack can be folded up against the vehicle when not in use

Includes a Yakima Hitch Lock to lock the bike rack to your hitch

Add a Yakima LockUp 10 Foot SKS Locking Cable with HitchLock (sold separately) to lock bikes to rack; or...

Add a Yakima 9 Foot SKS Locking Cable (sold separately) to lock bikes to rack if you have extra Yakima lock cores to use

Easy to assemble and install

Covered by Yakima's Limited LifeTime Warranty

Product instructions: PDF download

Yakima hitch compatibility fit guide: PDF download