Thule snow chains give you traction
2013-09-14 at 16:20 pm
Need a little more friction to tear through the snow this winter? Thule makes a full range of award-winning snow chains for cars, SUVs, vans, and motorhomes, designed for easy attachment to get you on the road quickly and safely. These Italian-engineered snow chains are some of the quickest and easiest to use on the market, and Racks For Cars can outfit your passenger car, SUV, van, or RV.
The Thule Easy-fit line of snow chains has been certified by Guinness as the world's fastest and most intuitive snow chain, attaching in less than 9 seconds. The Easy-fit line is also a recipient of the prestigious iF Product Design Award, recognizing the best in industrial design worldwide.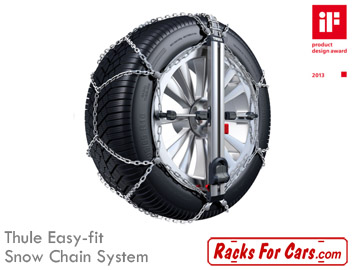 The K-Summit is the ultimate in brilliant external snow chain design, fitting on to the vehicle's original nut and bolt and requiring no clearance behind the wheel. Better yet, the chain never touches your alloy rims.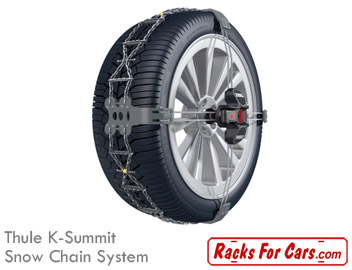 The CS series of chains is self-tensioning with just one stop for fitment. Additionally, the CS has a unique one-handle removal system to get you back into your toasty warm vehicle faster.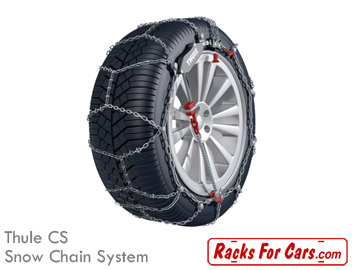 Thule also makes budget-friendly snow chain options with the CB and XB manual-tensioning systems and CG and XG self-tensioning systems. The CB and CG fit smaller passenger vehicles while the XB and XG fit large SUVs, commercial vehicles, and motorhomes.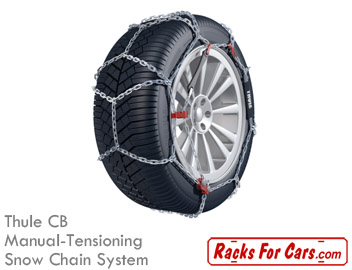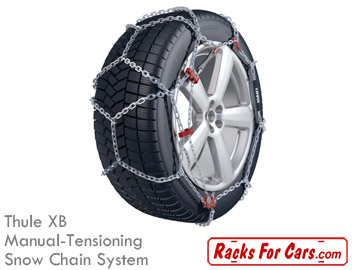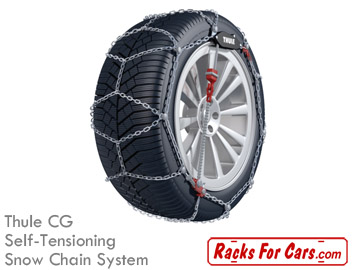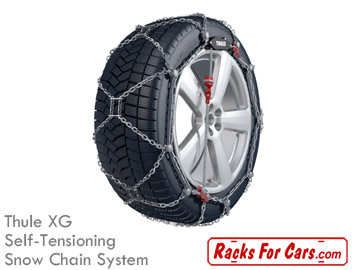 Need to figure out which tire chains will work for your vehicle? Check out the Thule snow chain comparison chart (pdf) and Thule snow chain fit guide (pdf), or contact us with your wheel size information and we can sort you out.