Thule Sleek Four-Wheel Stroller arriving Fall 2018
2017-11-30 at 16:20 pm
New Thule Sleek arriving Fall 2018
For over 25 years Thule has been dedicated to making life easier for active parents to bring their children along for the ride. This year Thule will bring out a new line of four-wheel strollers to complement their three-wheel strollers and multi-sport strollers.
Thule Sleek Four-Wheel Stroller
The Thule Sleek will be available in August of 2018 and will available in five carefully selected colors: Grey Melange, Midnight Black, Shadow Grey, Navy Blue, and Energy Red - timeless colors that won't go out of style.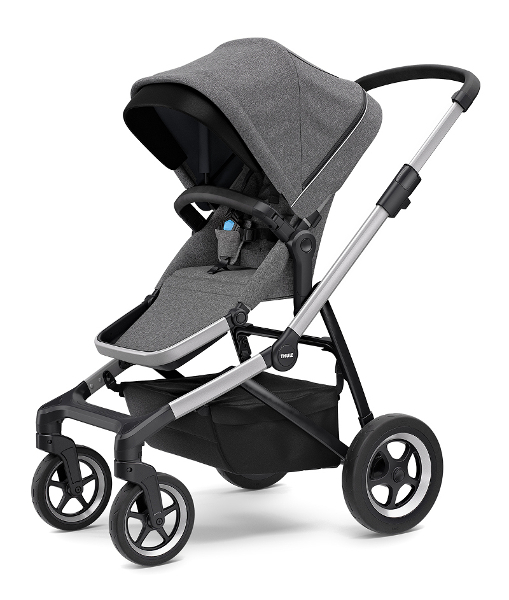 The Thule Sleek is the smart, stylish, and safe stroller for urban explorers and their kids. It has a lightweight and contemporary design, outstanding maneuverability and superior comfort for both parents and child. Designed for the active parent, Thule Sleek allows you to move freely through the city. Crowded areas, narrow corners, or bumpy sidewalks? Thule Sleek will get you wherever your curiosity takes you.
Versatile
The Thule Sleek can be configured to the match the needs of your family, from your baby's birth and as your little one grows. Add a bassinet, a sibling seat, or a car seat, bring one, two, or even three kids, mount the seat in parent-facing or forward-facing position - Thule Sleek will simply be the stroller you make it.
Quality and Safety
The Thule Sleek is made for the most important people in the world. It has been tested to the limits to meet the highest safety standards and to make sure it will keep going strong for years to come. All so that you and your child are free to enjoy your urban explorations in safety and comfort.
Coming Soon
The Thule Sleek is set to be available in August 2018. Check back with us for more details or our sign up for our newsletter for advance notice on it's arrival!