Yakima Roof Boxes
Yakima roof boxes carry skis, snowboards, luggage, and cargo on your vehicle's roof rack crossbars. Yakima boxes come with keys, locks, and all of the attachment hardware you need to install them onto most roof rack crossbars.
Racks For Cars stocks and displays Yakima roof boxes in our two Edmonton, Alberta, Canada retail store locations. The best way to shop for Yakima roof boxes is to bring your vehicle to one of our stores. By measuring your vehicle, we can narrow down the box options for you and find a length that works with your hatch. Bring your longest set of skis to try right in the box.
Yakima roof box features
Yakima cargo boxes are made of thermoformed ABS plastic for a combination of light weight with strength and durability. All Yakima roof boxes are dual side opening, allowing you access from either the driver or passenger side of your vehicle. Yakima puts internal lid stiffeners in every series of roof box they make, which makes their boxes the easiest to open and close on the market. Keys, locks, and attachment hardware are always included.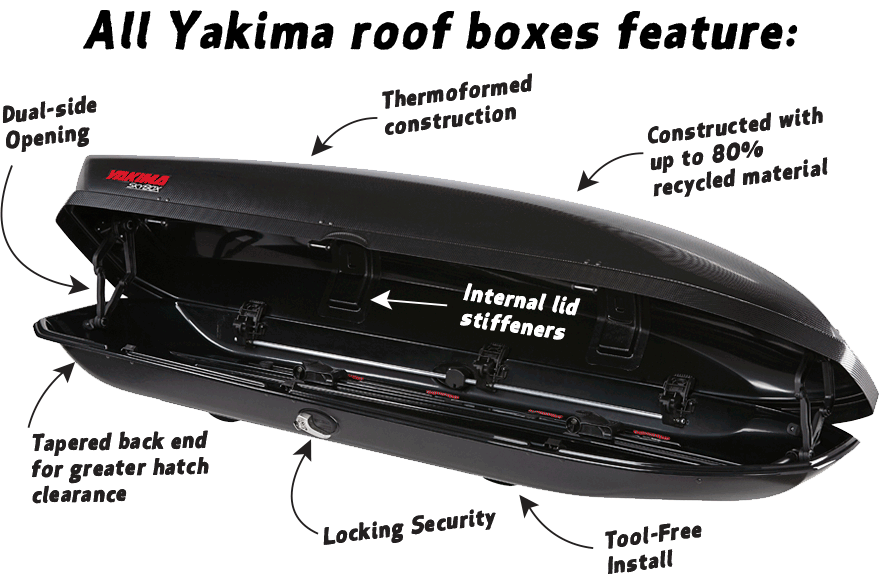 How Yakima roof boxes are made
All Yakima roof boxes are manufactured in Riverside, California. See how a Yakima ShowCase roof box is made in this video tour of Yakima's cargo box production facility:
Will it fit my vehicle?
Yakima roof box hardware is adjustable forward and back within a range that allows the box to be installed on most factory and aftermarket roof rack crossbar systems. You can use the Yakima Fit Guide to determine if a particular box will physically attach to your vehicle's rack. Please note that due to vehicle variations, this guide will not tell you whether a box will contact your rear hatch. To find a box to fit your hatch, bring your vehicle to one of our two Edmonton retail store locations or contact us for assistance.