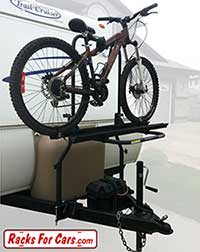 Arvika Bike Racks for Travel Trailers and 5th Wheels
Arvika is a Canadian manufacturer of high quality bike racks for travel trailers, 5th wheel trailer, and teardrop travel trailers Their unique bike rack systems allow you to mount your bikes at the front of your trailer rather than on the back bumper of your trailer. Why carry your bikes on the front of your trailer? The benefit of carrying your bikes on the front of your trailer include being able to see your bikes while you drive, not overloading your rear bumper, and being able to make use of space which is otherwise unoccupied.
North America's #1 source for Arvika Bike Racks
Racks For Cars ships Arvika products across North America from our retail stores in Edmonton, Alberta. Whether you live in Canada or in the continental USA we have shipping options available. We have been selling and servicing Arvika bike racks for over 15 years and our staff can assist you in your purchase.
Will an Arvika bike rack fit your trailer?
An Arvika bike rack system consists of 2-3 parts: a trailer bracket, a bike attachment, and in some cases a support arm. If you are not sure which parts are required for your trailer please fill out the form below or give us a call at 1-855-884-7225. You can also check out check out our Arvika RV bike racks blog post and Arvika installation video for installation advice.