Thule Chariot Multisport Strollers, City Strollers, Bike Trailers, Jogging Strollers, and Bike Seats
Edmonton's best selection of Thule Strollers and Accessories - all in stock and on display!
As Edmonton's #1 Thule retailer we stock and display the full line of Thule Stroller and Active with Kids products.
Since purchasing Chariot in 2012, Thule has rapidly expanded their line of strollers, bike trailers, and bike seats. The Thule Active with Kids line allows parents to stay active as they have children. Whether you choose a Thule Multisport Stroller, a Thule Jogging Stroller, a Thule Bike Trailer, or Thule Child Bike Seat you will be impressed. Thule's focus on safety throughout their entire product line provides you the confidence to take your young children along for the ride.
We stock and display the full line
While we are known as the go to store for roof racks and accessories you might be surprised to know that we stock and display the full line of Thule Active with Kids products at both of our Edmonton store locations. We stock and display popular chariot models such as the Thule Sport, Thule Cross, Thule Lite, Thule Cheetah XT, and Thule Coaster XT. We also stock Thule RideAlong and Thule Yepp child bike seats. Need accessories? We stock nearly every accessory for your Thule Chariot including Infant Slings, Baby Supporters, Jogging Kits, and more.
Purchase in-store or online
We display the full line of Thule Chariot strollers at both our Edmonton store locations. Not from Edmonton? You can purchase your stroller right here on our website and get fast shipping right to your door. We ship in stock orders the same or next business day to ensure you get your order as soon as possible!
Shop popular Thule Active with Kids categories: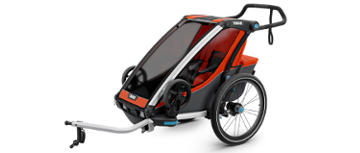 Thule Multisport Strollers can be used as a stroller, bike trailer, jogging stroller, or cross-country ski pulk. Each model comes in either a single child or double child model and includes the bike attachment and strolling wheels to get you started. You can then add conversion kits to customize the stroller.
Thule Bike Trailers allow you to tow either 1 or 2 children behind your bike. All Thule bike trailers include the bike attachment and some come with strolling wheels. Most models come in either single child or double child version.
Thule Sleek Four Wheel Strollers, are a smart, stylish, and safe stroller for urban explorers and their kids. The Sleek has a lightweight and contemporary design, outstanding maneuverability and superior comfort for both parents and child. Designed for the active parent, Thule Sleek allows you to move freely through the city.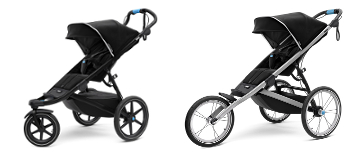 Thule Jogging Strollers are designed for runners but built for children. The Thule Urban Glide and Glide models are the perfect three wheel stroller for those who love to run or jog. Most models are available in multiple colors and in single child and double child models.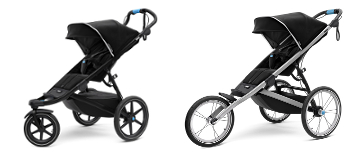 The Thule Spring is a flexible, fun, and functional stroller for everyday use.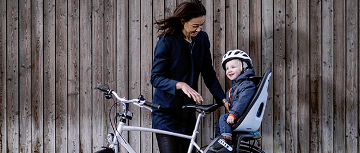 Thule Bike Seats such as the Ride Along or Yepp models come in either front mount or rear mount models and can be attached to most bikes. Some Thule bike seats will attach directly to your frame or handlebars and others attach onto your rear rack.
Thule Child Carrier Backpacks are a great way to bring your child along on a hike or haul them around at local festivals. The Thule Child Carrier Backpacks feature a full adjustable back panel and hip belt making it easy to switch the carrier between parents. The child carrying area is fully padded with additional thigh support to reduce pressure on their legs, while also giving them the flexibility to adjust themselves.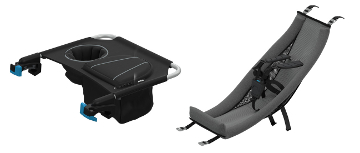 Thule Stroller Accessories allow you to do even more with your Thule Multisport Stroller or Thule Jogging Stroller. Add on popular accessories such as the Infant Sling, Baby Supporter, Organizer Sport, or Storage Cover.
Thule Conversion Kits allow you to convert your Thule Multisport Strollers into a jogging stroller or cross-country ski pulk. Conversion Kits are easy to install so you can quickly go from using your Thule Chariot as a bike trailer to using it as a jogging stroller.